Prachuap Khiri Khan
City of Dolphins and Monkeys

Welcome on the pages of Prachuap Khiri Khan in Thailand!






The city of Prachuap Khiri Khan is is also the name of the province, which is located south of Phetchaburi and north of Chumphon.
The charm of city is first of all the wonderful view and the silence. Prachuap Khiri Khan is not a party town, and no foreigners meeting place. You will not find an Entertainment districtin the provincial capital. The number of hotels and bars are also quite manageable.
Primarily the nearly 35,000 residents live of the fisheries, in the first place with the so-called Pla Mueck, the squid.


But this beautiful city has to offer a lot of places of interest, which we like to show you.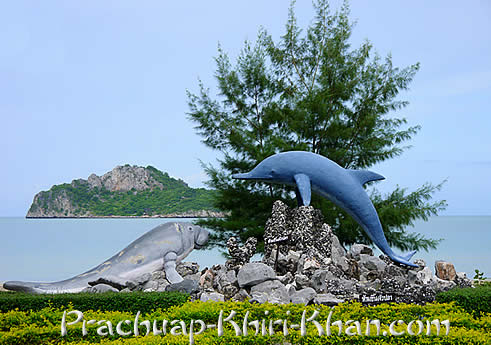 We introduce you to the most beautiful and interesting places to visit, we show you worthwhile short trips through the region of Prachuap Khiri Khan, white sandy beaches and turquoise sea with dolphins and many colorful fishes.
Make a trip with us to the border to Myanmar (Burma), which is less than 20 kilometers away from the city. There is also a furniture market where you can find the finest and most rare wood.